"Where Learning Feels Like Family"
The major focus of each classroom is based upon sequential learning guided by our comprehensive core curriculum. The programs also include discovery learning, imaginative play, and role-play, music and movement, and progressively with age the programs include fitness, library, and art. All programs have individual activities designed by our experienced teaching staff, inspired by the children themselves through their individual needs and creativity.
To enter our preschool program children must be 12 months old by September 30th. (Or meet the age requirement within 5 school days of the September 30th cutoff, and they may not start until they are 12 months of age.) Our preschool classes include programs for Toddlers, 12 months to years, 2 - 3 year olds, 21⁄2 - 3 1⁄2year olds, 3 – 4 year olds (3 by September 30th), 3 1⁄2 - 4 1⁄2 year olds (3 1⁄2 by September 30th) and 4 - 5 year olds (4 by September 30th).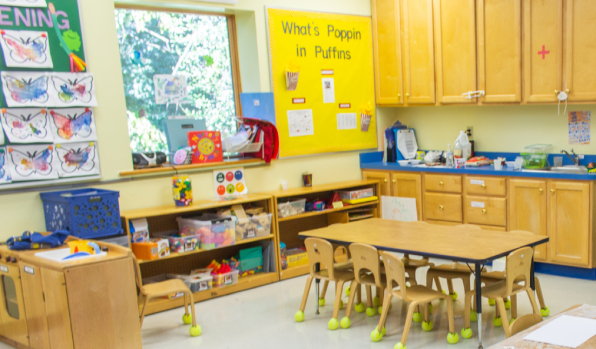 Village Green enjoys an excellent reputation for providing children with an enriching and stimulating preschool, kindergarten, and extended day experience. This reputation has assured the School a place in the community. Village Green is a community school.
The number of students and staff has increased steadily since opening in 1979. In 1985 the Great Falls School moved into its present, larger facility, located on 4 1⁄2 acres. Great Falls enhanced the facility in the year 2000 by adding a 6500 sq. ft. wing, which accommodates a large multi-purpose room and four additional classrooms.
Village Green's facilities provide children with a unique environment that encourages experimentation and exploration. Our child-oriented classrooms are planned environments that contain carefully chosen educational and play materials. Village Green curriculum emphasizes gross motor development. In designing the outdoor play area, we consulted Playgrounds Unlimited, a leader in park and playground equipment. Staff members of the company designed age-appropriate equipment that promotes our students' physical, emotional, and mental development. In 2018 our playground was upgraded due to the generous support of our parents and donors.